Lutein: The Super Nutrient That Can Boost Your Brain
New research suggests lutein, a nutrient known for supporting eye health, also enhances cognitive skills.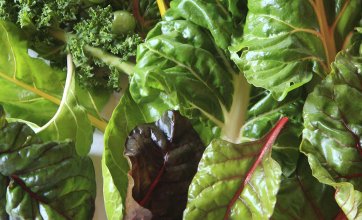 From a young age, we're taught that different nutritious foods can help our bodies stay healthy. Want strong bones? Drink milk to get your calcium. Looking to bulk up your muscles? Eat more meat to pack in the protein.
But did anyone ever tell you that there's a super nutrient that can boost your brain?
In the past, lutein – a carotenoid or pigment found in many fruits and vegetables – was primarily known as a nutrient for good eye health. But new research shows that it may also play a strong role in developing and maintaining brain function, and can enhance learning and memory.
Benefits Babies to Boomers
From infants to seniors, everyone can benefit from a lutein-rich diet.
For infants, researchers are learning that lutein in breastmilk supports the development of brain function. In fact, research suggests that as babies get more lutein, either from formula or from breastmilk (when their mother has a high-lutein diet), there is more lutein detected in their brains.
"Increased levels of lutein may help speed up cognitive milestones in infants," says Matthew J. Kuchan, PhD, a discovery scientist and the global science lead for Abbott's partnership with the Center for Nutrition, Learning, and Memory (CNLM) at the University of Illinois. "These cognitive milestones could include an infant making eye contact with a parent, moving their head to look at something in their peripheral vision, or turning their attention to someone when they hear their name."
School-age children may see higher test scores when they eat more lutein. Emerging research suggests the amount of lutein present in preadolescent children's eyes directly relates to their brain development and learning skills, which can predict performance on tests.
But it doesn't stop there. College students also can reap the benefits of this super nutrient. Abbott and the CNLM are currently working with researchers from the University of Georgia to study the impact of lutein on mental sharpness and memory in college students. Baseline data and additional follow-up research suggest that lutein and zeaxanthin — another carotenoid very similar to lutein — supplementation improves processing speed and efficiency, along with memory in young and older adults.
For older adults, lutein supports mental sharpness and healthy aging.
"Studies have already shown that lutein plays a role in ongoing brain maintenance and aging," Kuchan says. "Abbott and the CNLM, in partnership with the University of Georgia, are going a step further to understand the impact of lutein supplementation in aging adults with the goal of determining whether the nutrient can maintain brain power and potentially prevent cognitive decline."
Go Green
Now if you're curious about how to harness the power of lutein, we've got you covered. Eating a healthy, balanced diet can help increase your lutein intake each day. Aim to eat foods like spinach and eggs, or any of the following lutein-rich foods:
Leafy greens like kale, Swiss chard, turnip greens, collard greens and romaine lettuce
Broccoli
Zucchini
Garden peas & Brussels sprouts
Corn
Carrots
Okra
Celery
Oranges
Tomatoes
Melons
Grapefruit
Beets
Asparagus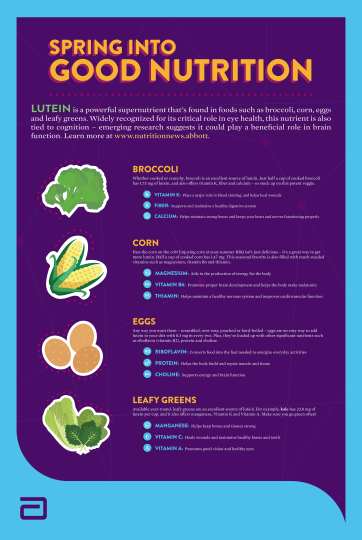 In the future, nutrient combinations containing lutein may be able to enhance cognitive function and physical performance. Researchers at Abbott and the CNLM are working with the U.S. Air Force Research Laboratory to understand the impact of a first-of-its-kind nutrient combination on airmen's focus, concentration and mental sharpness. The resulting "all in one" liquid nutritional supplement contains a blend of carbohydrates, protein and fat, along with vital micronutrients, omega- 3 fatty acids, carotenoids (natural plant-contained pigments with antioxidant capacities) and amino acids known to independently improve critical performance factors such as executive function, reaction time, aerobic endurance and muscle strength.
With a helpful brain boost from lutein, people of all ages may be able to improve their cognitive function, from learning and memory to concentration and focus. So treat your brain to a tasty snack - amp up your next meals by incorporating more lutein.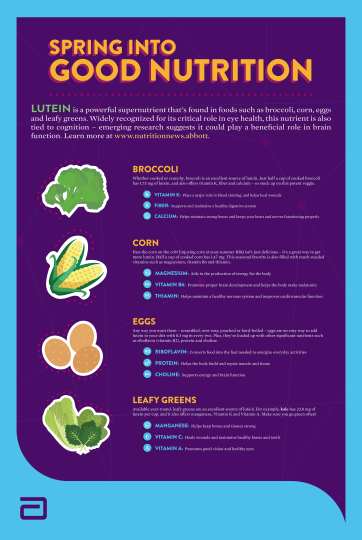 Download the Infographic
Taken from: http://www.nutritionnews.abbott/science-quality/lutein--a-super-nutrient-that-improves-memory.html